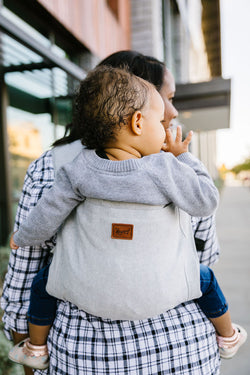 Next restock is planned for late September. Join our Facebook group for more information.

SOME PICTURES ARE ORIGINAL STYLE CARRIERS AND ARE FOR COLOR REFERENCE ONLY. ONBUHIMOS HAVE NO WAIST BELT.
The newest addition to our carrier collection, the Happy Onbuhimo – a beautiful and simple, Japanese-inspired waistless carrier. Designed to support a high back carry position, our Onbuhimo provides your baby with a view of the world from your level in comfort and style. If you need help getting comfortable, please email us to setup a free consultation (extra charge applies if the carrier is purchased 2nd hand). It can take some time to build the muscles used by on Onbuhimo.
We're honored to donate a portion of the proceeds from every Onbuhimo sold to the following charities:
Center for Japanese Mental Health
Carry Positions: Front (inward facing), Back
BENEFITS:
+ Designed for use with babies/toddlers 7-40 lbs
+ Hidden pocket carries sun cover with room for extra storage
+ Comfortably worn by caregivers of different sizes
+ Great for pregnant moms as it has no waistband
+ 30-50% lighter than most SSC currently on the market
+ Folds up small and easily fits in a purse or diaper bag
+ Ergonomic shoulder design features slim profile
+ Sleek and minimal design
+ Made in the USA with imported fabric
+ Compliant with CPSIA and ASTM standards