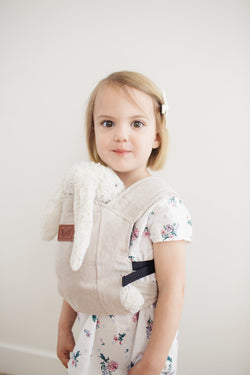 Doll carriers in all colors will restock on 12/14 at 10am MT.
Photos might reflect an old design, there is no longer a pocket on the doll carriers.
Made in the USA with imported fabric
A mini linen carrier for your little one! Now your child can carry their favorite friends in style.
Benefits:
- Encourages imagination, creativity, & life skills
- Hidden pocket with room for storage
- Styles coordinate with full size Happy Baby Carriers
- Front and back carry
- For children 18 months & older
** This is a toy and is not intended to carry children. **